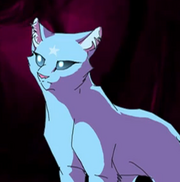 Brightstar
is a lithe, muscular, pale, whitish-blue she-cat with bright, cloudy, blue eyes, and a pink nose.
Has been mistakenly depicted as a pure white she-cat
Urnam7 confirmed that Brightstar is not blind
She is voiced by StarWarsGirl7
It's Unknown how Brightstar died,
It was later stated BrightStar died from greenchough
"I see now. I see an innocent cat that's determined to protect himself from a viscious heathen!"
—Brightstar to Chestnutfall
Ad blocker interference detected!
Wikia is a free-to-use site that makes money from advertising. We have a modified experience for viewers using ad blockers

Wikia is not accessible if you've made further modifications. Remove the custom ad blocker rule(s) and the page will load as expected.