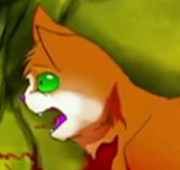 Robinpoint is a lithe, muscular, ginger-and-white tom with green eyes.
Scarletpelt's father is not named Robinpelt. He has no name, and Urnam7 has never confirmed his actual name.
Episode 5:
Edit
He is killed by an unknown cat, and it is revealed that he was the deputy of ShadowClan.
He is the father of Scarletpelt.
He may have been killed by Chestnutfall,wanting to be deputy of ShadowClan.
Family
Daughter:
Edit
Sister:
Ad blocker interference detected!
Wikia is a free-to-use site that makes money from advertising. We have a modified experience for viewers using ad blockers

Wikia is not accessible if you've made further modifications. Remove the custom ad blocker rule(s) and the page will load as expected.