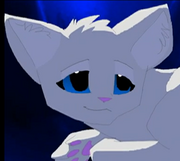 Whitepetal is a lithe, pure white she-cat with blue eyes, a pink nose, and pink paw-pads.
Episode One:
Edit
Whitepetal is seen sleeping the nursery with Dimkit, when Dimkit awakens her, frightened. She asks what is the matter, and Dimkit replies that he had a bad dream. Whitepetal comforts him, saying that he is probably just excited about becoming an apprentice the next day. Dimkit perks up quickly.
It is unknown what happened to Whitepetal.

Urnam7 has stated that Whitepetal went missing soon after Dimkit's apprenticeship.
Unknown Tom
"It's okay. Nothing is going to hurt us. Even though we are the only cats in the nursery at this time we can fight off anything. Those birds and mice won't know what hit them!"
—Whitepetal comforting Dimkit
Ad blocker interference detected!
Wikia is a free-to-use site that makes money from advertising. We have a modified experience for viewers using ad blockers

Wikia is not accessible if you've made further modifications. Remove the custom ad blocker rule(s) and the page will load as expected.